LATEST NEWS
11.25.19
Things have just been crazy over the past few months. Don't get mad at us, but we had a litter we weren't even able to post that have already gone to their new homes. To make up for that, we have one last litter that is actually **ready to go** right now. We will be retiring some of our queens over the next few months as well, and we will be posting pictures of them early next year.
We've also put together a short video of the current litter, just so you can get a better idea of how they behave and what they actually look like (getting good photos of cats is notoriously difficult), but as always, you can contact us with any questions you might have.
QUICK VID
As I mentioned above, it can be pretty difficult to get a good photograph of a cat that knows you've got a camera. I don't know what their aversion is to looking at you when your camera or phone is in your hand, but they're exceptional at it.
This is just a quick video I shot while chasing the kittens around the living room. (Please don't mention the dust on the floor - I'm going to get smacked by the wife when she sees this.)
AVAILABLE KITTENS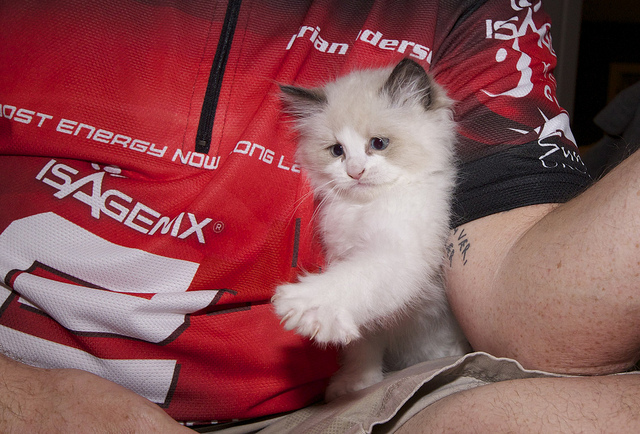 BLUE MCTABBY AND WHITE MALE
$1,200
Flounder will do a stop, drop, and roll to show you his belly when you come into the room. He'll make a toy out of anything, and has an affinity for toes, for some reason.
GRAY AND WHITE BI-COLOR MALE
$1,200
Ahi is a snuggle-bug, and is all about curling up in your lap for some scratches. He gets along really well with all our other kitties, and would like for you to know he doesn't fear the vacuum.
BLACK MCTABBY BI-COLOR FEMALE
$1,200
Trout is the only girl in the litter, and definitely loves the pampering, especially chin scratches. She will follow you around the house, and if you stop for more than a minute, she'll flop down on your feet.
SEAL POINT AND WHITE MALE
$1,200
Finn is a purr-monster, and will stop everything if he thinks he can get some chin scratches. He loves toys, especially the ones with feathers.
Upper Arlington, OH 43221
info@desertmuffins.com